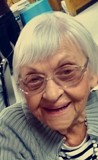 Irene (Kosch) Dehn age 86 of Waconia, formerly of Waverly, MN and Spring Hill, FL passed away peacefully surrounded by family on May 25, 2018 at Ridgeview Medical Center in Waconia. She was born February 25, 1932 in Minneapolis to Stefan and Mary (Palgutt) Kosch. She grew up in Northeast Minneapolis with a brother and a sister.
Irene married Edward Theodore Dehn in 1952. The couple then lived in Minneapolis, Richfield and Burnsville until 1968. During this time they had 4 children and purchased a cabin on Lake Union near South Haven. There the family spent many weekends boating and fishing.
In 1968 the couple moved to Waverly where they bought a farm off County Road 8 on the North side of Little Waverly Lake. Then in 1981 they retired to Spring Hill, Fl. After 35 years in 2016 Irene moved to Westview Acres in Waconia.
Irene was a stay at home wife and mother. A city girl who learned quickly all about farm life—raising chickens, pigs and cows. Making sure her sons did their chores before school and in the evenings all while Ed worked in Lakeville. She enjoyed cooking, baking, sewing, canning, making baby quilts, playing cards, occasional trips to the casino, bingo but mostly spending time with her family.
Irene is survived by her children: Ed (Connie) Dehn, Steve (Candy) Dehn, Tom Dehn and Lisa Dehn; 10 grandchildren and 13 great grandchildren. She was preceded in death by her husband Ed, parents, a brother Stephen Kosch, a sister Helen Harmon, daughter-in-laws Susanna Dehn and Cindy Dehn.
Memorial Mass of Christian Burial was held at 10:30am on Saturday September 29, 2018 at St. Mary's Catholic Church in Waverly. A Gathering of family and friends was from 9-10:15am Saturday prior to the Mass. Inurnment was in St. Mary's Cemetery in Waverly.