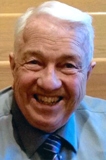 James E. Stevens
September 16, 2017
Jim was born in his family home in Montrose, MN, on June 14, 1938 and baptized at St. Mary's Catholic Church in Waverly, MN. He attended grade school in Montrose and graduated from Buffalo High School in Buffalo, MN, where he played many sports. As a young boy, he delivered newspapers and when he was old enough became part of the family business as a well driller, which was his lifelong passion. His wealth of knowledge in the well drilling industry lead him to a job as a Water Well Inspector for the State of Minnesota.
He was united in Holy matrimony to the love of his life, Nancy Ditty on April 3, 1961. This union has been blessed with six children, 21 grandchildren and one great grandchild.
Jim enjoyed many things in life, playing baseball, softball and bowling; having his head scratched, watching football and 60 Minutes; fishing at Granite Lake and HISTORY (he had an enhanced story "tale" for every topic). He was very proud that his birthday coincided with Flag Day.
His greatest love was spending time with his family. Every child and grandchild knew they were his "favorite" and never left his side without a hug and the words, "I love you".
Jim faced many challenges and survived and thrived because of his Faith. One of the greatest gifts he gave to his children and grandchildren was how he loved his wife. He lived his Faith, showing by example that through God's gift of love you can overcome all things.
James was preceded in death by his parents Bill and Margaret (Horsch) Stevens and granddaughter Kara Stevens. He is survived by his wife Nancy (Ditty) of 56 years; children Chrissie (Rodger) Vieau, Bill (Sabrina), Jon (Brenda), Jill (Chris) Arens, Cay (Jason) Griep, Becky (Jason) Groskreutz; Favorite grandchildren Jordan, Amanda, Katie, Jay, Michael, Matthew, Josh, Anna, Abi, Sam, CoCo, Robbie, Roni Rose, Megan, Danielle, Maddie, Jackson, Ben, Bizzie, Brendan; great granddaughter Lydia.
Mass of Christian Burial was held at 11 AM on Thursday, September 21, 2017 at St. Joseph Catholic Church, 401 River St. N., Delano. Visitation occurred from 4-8 PM Wednesday with an 8 PM Prayer Service and continued Thursday from 9-10 AM ALL at the Iten Funeral Home in Delano. Interment was in the St. Joseph Catholic Cemetery in Delano. In lieu of flowers, memorials preferred.
A special thank you to the Delano Fire Department for their service through the years and to the caring and supportive staff of BridgeWater at Hanover.