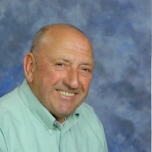 James M. Oeffling, age 76 of Loretto, passed away on Sunday, August 16, 2015 surrounded by his family. He was born on March 13, 1939 in Corcoran, MN to Henry and Angela (Stein) Oeffling.
Jim was a loving dad, grandpa, brother, uncle, and friend. He was always willing to help others. Jim was a very involved grandfather; attending the grandchildren's sporting and school events. He had a strong Catholic faith, pride of his community, a sense of humor and a positive, always glass half full attitude. Jim was a hard worker, always willing to help out, and dedicated to getting the job done. Jim loved fishing, visiting over coffee, socializing and meeting people.
Jim was preceded in death by his wife Jean (Vieau), parents, and 2 siblings Wayne Goodman and Bette Carstedt. He is survived by his sons Scott (Jill) Oeffling, Corey Oeffling, Kary (Molly) Oeffling; 8 grandchildren Rachel, Sam, Turner, Megan, Dina, Charlie, Talan, Austin; siblings Jeanne Weber, Joe (Mary Lou) Goodman, Carol (Andy) Pettit, Ellie Ghostley, Nick Oeffling, Helen (Paul) Klapprich, Catherine (Frank) Meister, Judy (Tom) Arens; many nieces, nephews, cousins, friends.
Mass of Christian Burial was held 11 a.m. Friday, August 21, 2015 at Ss. Peter and Paul Catholic Church, Loretto. Visitation took place on Thursday from 4-8 p.m. at Martha's Hall of St. Peter Catholic Church, Delano and continued Friday 10-11 a.m. prior to Mass at Ss Peter and Paul Catholic Church, Loretto. Interment was in the church cemetery. In lieu of flowers, memorials preferred.