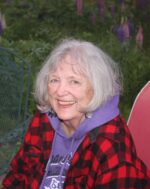 Jane E. Shaw
June 3, 2023
Shaw, Jane Ann Ellingson
Jane E. Shaw age 84, of Chanhassen, Minnesota, passed away from breast cancer on Saturday, June 3, 2023.
Jane was born in Minneapolis, Minnesota. In 1956, she graduated from Washburn High School and went on to earn a teaching degree from Gustavus Adolphus College in St. Peter, Minnesota. In 1962 she married William "Bill" Shaw. She was devoted to Bill and dedicated her life to raising the family they built together. She was a wonderful wife, mother, grandma, mormor, farmor, and friend.
Jane had an unyielding faith in God and enjoyed going to church. She loved spending time at her cabin on Lake Superior's North Shore. Adorned in her trademark red earrings and red lipstick, she spread fun and laughter from the cabin in Hovland, Minnesota to her assisted living apartment at Summerwood of Chanhassen. Everyone knew her by her warm smile and joyous spirit. She will be greatly missed.
Jane is survived by her four children: Jack Shaw, Bill Shaw (Deborah), Ann Anderson (Craig), and Matt Shaw (Michele). Jane cherished each of her 11 grandchildren: John Shaw (Jenna), Anna Jane Chase (Colby), Garrett Shaw, Bill Shaw, Ben Shaw, Nikki Shaw, Jane Anderson, Allie Anderson, Ella Anderson, Matt Shaw, and Tom Shaw. Her great grandchild, Rosie Jane Chase, brought her endless joy. She was preceded in death by her husband, William Shaw, parents, Nephi and Ann Ellingson, and brother Jim Ellingson.
A memorial service was held at Lyndale Lutheran Church, 8012 County Road 6, Maple Plain, MN 55359 on June 24 at 11:00 AM. Visitation was prior to the service at 9:30 AM. A luncheon followed. In lieu of flowers, memorials preferred to Lyndale Lutheran Church in Maple Plain, Minnesota or Trinity Lutheran Church in Hovland, Minnesota.