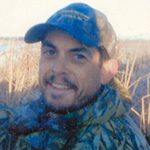 Jeffrey Thomas Breuer
November 25, 2008
Jeffrey Thomas Breuer age 31 of Delano left us on the morning of after a courageous 18 month battle with liver cancer. He was born May 8, 1977 to Thomas and Rose (Fake) Breuer in Waconia, Minnesota.
Jeff was preceded in death by his grandparents Nicholas Breuer, Bernell Mace, and George Fake Sr. He is survived by his children Aidon Sheridan, Beau Breuer, and Payton Breuer; parents mother Rose and Roger Schadow; father Thomas Breuer and Barbara Weber; sisters Chrissy and Jeremy Burr, Cassie Grindle, Kristina and Kent Rodby; brother Paul Weber; nieces and nephews Emma Weber, Logan Weber, Jake Rodby; grandparents Leona Fake, Jan Breuer; godparents Kim Duncanson, George Fake; as well as many other family members and friends.
Jeff lived each day for that day and let tomorrow take care of itself. Know that he is with each and every one of us as we spend time in the great outdoors.
Funeral services were held on Saturday, November 29, 2008 at the St. Peter Catholic Church in Delano, Minnesota. Rev. Mr. Michael DeWitte officiated at the services. Casket bearers were Joe Perkins, Pat DeWitte, Chris Anderson, Paul Gnitka, Todd Evans, Jerry Wiese, and Brian Moonen.