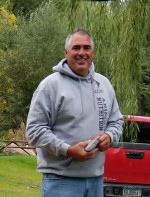 Jerry A. Salonek
December 31st, 2019
Jerry Alfred Salonek, age 60 of Montrose, passed away on Tuesday, December 31, 2019.
Jerry was a loving husband, father, grandfather, son, brother, uncle, and friend to many. Married to his wife of 38 years, father to 3, and mostly the "best papa ever". His pride and joys were his 7 grandsons along with 2 step grandchildren.
He always joked of his boys as his "rock pickers" and took them on many gator, bobcat, and tractor rides. Jerry's passion was farming. He loved working along side his twin brother John milking cows, raising beef cattle, and raising crops. "The Salonek twins" had a very special bond together. Jerry enjoyed tossing bean bags, playing euchre, spearing and pickling fish, and traveling with his beloved wife. He took pride in his work and all his accomplishments. "Big Jer" had a big smile, a big heart, and big sense of humor. He often hid his pain deep within. he will be remembered for his work ethic, sarcastic practical jokes, and hardworking big hands. Instead of focusing on the way he died, we need to embrace the way he LIVED. We need to encourage others to TALK about depression & suicide instead of hiding it due to embarrassment. Jerry will be missed by many.
Survived by his wife Bonnie (Lange) Salonek, children Nathan & Connie Salonek, Nick Salonek, Brooke & Casey Dingels; parents Alfred & Elizabeth (Lachermeier) Salonek; siblings Diane & Gene Stensland, John & Lori Salonek, Danny & Sharon Salonek.
Grandchildren Will Salonek, Natalie & Chase Neumann, Hunter, Jack & Charlie Salonek. Jarett, Cain & Tyson Dingels; brother-in-law and sister-in-law Jim and Brenda Neaton; as well as many nieces & nephews, extended family, & friends.
Preceded in death by his brother Bob Salonek, father-in-law and mother-in-law Melvin & Arlene Lange, brother-in-law Mark Lange. Grandparents and other relatives.
Mass of Christian Burial was held on Monday, January 6th at 11 a.m. at Immaculate Conception Catholic Church in Watertown. Visitation was held on Sunday afternoon from 4 to 8 p.m. with a 3:30 p.m. rosary service in the church. Visitation continued from 10 to 11 a.m. on Monday in the church prior to the Mass.