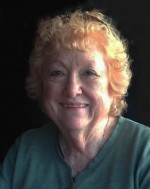 Jo Ann "Jody" Nelson
January 8, 2020
Jo Ann "Jody" Nelson, age 83 of Delano, MN passed away peacefully Wednesday January 8, 2020. Jody was born March 6, 1936 in Horton, KS to Benjamin and Kathryn Williams. Jody attended Whiting High School where she met her high school sweetheart, Samuel (Sam).
After graduation, she attended secretarial school in Topeka, KS then moved to Portland, OR. Sam proposed and brought her back to Kansas where they were married on July 2, 1960. Jody raised three children (Jeffrey, David, Linda) while she and Sam moved from KS to MO to MN to IN to MN. They moved several more times (PA, TN, and FL) before returning to MN to be near their kids and grandkids.
Jody enjoyed a successful career as a secretary and administrative assistant, retiring from Cargill in 2008. She was active in her Delano United Methodist Church, especially singing in the choir, and she enjoyed cooking for others. She was a special wife, mother, grandmother, great-grandmother and friend.
Jody was preceded in death by her parents; loving husband of 49 years, Sam; and sisters Phyllis Denton and Caroline Grulke. She is survived by her sister Mary Cochren; children Jeffrey (Rebecca) Nelson, David (Lana) Nelson and Linda (Eric) Lindstrom; grandchildren Katlyn (Ryan) Kosek and Kelsie Nelson, Christopher Nelson and Adam Nelson, Josh (Angeline) Lindstrom, Erin (Ryan) Eyler and Andrea Maxwell; seven great-grandchildren; and many special friends and relatives.
Visitation was held Monday, Jan 13, 2020 from 5pm to 8pm at Iten Funeral Home, 300 N. 3rd St., Delano. A celebration of Jody's life will be Tuesday, January 14, 2020 at 11am at Delano United Methodist Church, 3310 County Line Road, Delano. Gathering of family and friends 1 hour prior at the church. Private family inurnment will be in Ft. Snelling National Cemetery, Minneapolis.