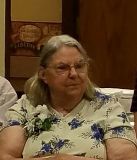 Joan Dorothy Bergin age 82 of Montrose passed away with her family by her side on May 21, 2017 at the North Memorial Medical Center in Robbinsdale, Minnesota. She was born January 25, 1935 to Walter and Wilhemina (Van Elsberg) Miller in Minneapolis, Minnesota.
Joan was family oriented. Her family was her life. She loved to bake, do puzzles and play bingo. She was known for attending all her grandchildren's and great grandchildren's events. Joan was preceded in death by her parents, Walter and Wilhemina Miller; daughter Susan Rath and a grandson Jeremy Bergin. She is survived by her husband of 62 years, Charles; children Debra Korthals and special friend Dennis Johnson, Keith Bergin, Kathy (Dan) Veaderko, Melissa Bergin and special friend Dave Cabianca; grandchildren Carry Bergin, Sabrina Highfield, Travis Troska, Keith Bergin Jr., Jessica Sanders, Christina Bentfield, Heather (Tony) Fuller, Crystal Veaderko, Justin (Meghan) Bergin, Azure Tyler; many great grandchildren; sister Pat Lauseng; as well as many nieces, nephews, cousins and friends.
Memorial services were held on Friday, June 2, 2017 at 1 p.m. at the Iten Funeral Chapel in Delano, Minnesota. Gathering of family and friends took place from 11 a.m. to 1 p.m. on Friday prior to the services. Inurnment was in the Riverside Cemetery in Grantsburg, Wisconsin.