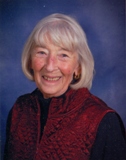 JoAnn M. Sullivan
January 18, 2018
JoAnn Mary Sullivan, age 76 of Watertown, Minnesota passed away on Thursday, January 18, 2018 at Westwood Place in Watertown. She was born on April 9, 1941 in Minneapolis, Minnesota to John V. and Josephine C. (Westcott) Ryan. She grew up in Deephaven, Minnesota.
JoAnn was her grandchildren's biggest cheerleader; attending all of their events. She was also a devoted friend, an avid seamstress, sports watcher and loved anything red.
JoAnn was preceded in death by her husband Eddie. She is survived by her children Shannah (J.R.) Robertson, Don (Christine) and Larry; 6 grandchildren Lindsey (Mike), Eric (Kelly), Camille (Allen), Mitchell (Kaila), Lacey and Christopher; 3 great grandchildren Annabella, Nevaeh and Axten; siblings John (Maret) Ryan and Jill (Jim) Bossert; many other relatives and friends.
Memorial Mass of Christian Burial was held at 10 AM on Friday, January 26, 2018 at the Immaculate Conception Catholic Church in Watertown. A gathering of family and friends was Friday, from 9-10 AM prior to the Mass at the church. Private inurnment will be at a later date in the Resurrection Cemetery in Excelsior. In Lieu of flowers, memorials preferred.
A special thanks to Dr Jensen, Mindy and the entire team at Catalyst Clinic.
Arrangements by the Iten's Watertown Funeral Home.