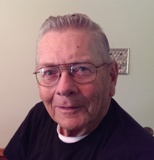 John A. "Jack" Speckel
February 9, 2019
John (Jack) A. Speckel, age 78, of Watertown, MN passed away February 9, 2019 at the Good Samaritan Home in Waconia, MN.
Jack was born May 15, 1940 in Franklin Township, MN to Leslie and Florence Speckel.
Jack worked as a bricklayer for many years. He bought his first snowmobile in 1968 which eventually lead him to become an avid collector of vintage snowmobiles. Jack liked to go camping and fishing with family. He enjoyed motorcycles, vintage cars, deer hunting, and most of all, breakfast with his friends at the local restaurant. Jack volunteered for various snowmobile events, Watertown Planning Commission, Carver County Historical Society, MnUSA Snowmobile Assn, Midwest Vintage Snowmobile Shows, and Watertown Lions Club. Jack was a member of the Lions for 40 years and received the Melvin Jones award.
Jack was preceded in death by his parents, Leslie and Florence Speckel, and brother Harlan Speckel. He is survived by his wife of 59 years, Mary Speckel; daughter Patricia and husband Daniel Firth of Kingsport, TN; grandchildren Benjamin and Rebecca Firth; brothers Raymond and wife Beverly Speckel, Duane Brady; and several nieces and nephews.
Many special thanks to the doctors, nurses, and care workers who aided him through his long battle with his health. 
Funeral service will be held at a later date.
In lieu of flowers, memorials preferred.