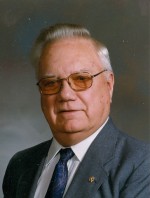 Joseph Reardon
March 15, 2017
Joseph Donald Reardon, "Joe" age 89 of Waverly passed away on Wednesday, March 15, 2017. He was born October 4, 1927 to Charles and Adelaide (Claessen) Reardon in Marysville Township, Minnesota.
Joe was a longtime salesman for Millerbernd Manufacturing. He served in the Merchant Marine and eventually the US Army following World War II. being Honorably Discharged at the rank of Staff Sergeant. Joe was an active member of the 4th Degree Knights of Columbus. He was a lifelong faithful active member of St. Mary's Parish. He loved to tinker on small engines and outboard motors.
Joe was preceded in death by his wife Mary; siblings Robert Reardon, Teresa Zeleny, Anita Ostman, and Dennis Reardon. He is survived by his daughters Karen (George) Foede, Cindy (Wayne) Boman; 5 grandchildren Skip (Becky) Johnson, Shannon (Nabel) Benalshaikh, Bryce (Melissa) Boman, Bryan (Nicole) Boman, Evan (Kate) Boman; 15 great grandchildren Brittany Johnson, Jehnah Benalshaikh, Mahdi Benalshaikh, Shakura Benalshaikh, Rebecca Boman, Anna Boman, Wyatt Boman, Kiefer Boman, Laine Boman, Connor Boman, Sadie Boman, Scarlett Boman, Amanda Rolfson, Kathleen Rolfson, and Kimberly Rolfson; three great great grandchildren Odin Starkey, Kylee Starkey and Navaeh Rolfson; siblings Jeanne Painschab, Harold Reardon, Mary (Don) Klingelhoets, and Berni Reardon.
Mass of Christian Burial was held at 10:30 a.m. Monday, March 20, 2017 at the Church of St. Mary in Waverly, Minnesota. Visitation was held from 4 to 8 p.m. on Sunday in the St. Mary's Parish Center with a 7:30 p.m. prayer service. Visitation continued on Monday from 9 to 10:15 a.m. in the parish center prior to Mass. Interment was in the church cemetery.