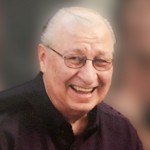 Joseph (Joe) Koch
May 10, 2020
Joseph Eugene Koch, "Joe" age 81 of Loretto, Minnesota passed away on Sunday, May 10, 2020 at home
with his wife and daughters by his side. He was born July 7, 1938 to Eugene and Christine (Arens) Koch
and grew up in Loretto with his sister Betty Tomm and brother Robert "Bob" Koch.
Joe was a loving husband, father, grandfather, daycare grandpa, great-grandfather, uncle, brother, and
friend. He married his bride of 59 years, Barbara (Lefebvre) on August 20, 1960. By the fall of '61 they
were living in Puerto Rico where Joe served in the Army. Once home again, Joe and Barb's family grew
with the addition of two daughters, Michelle Walters and Christine (Bryan) Deutsch; grandchildren
Casey Walters, Alex Walters, Robbie Glavas, and Dan Glavas; great-grandchild Sophia Deutsch.
He had many interests, gifts, and talents. They included fishing, woodworking, drawing, family historian,
trips to Montana, singing, carving, hunting for arrowheads, creating prank gifts, one-liners, and a baby
whisperer for Barb's Daycare business. The most valuable gift was his unwavering faith. It was plain to
see in his awe and appreciation of nature; his service to others as a volunteer fireman, Lions Club
President, school board member, softball coach, church choir member, and cemetery grounds keeper;
and in his courage and strength through pain and suffering.
With deep felt gratitude we ask the Lord's blessings upon all of the amazing caregivers from Guardian
Angels Elim Hospise and Legacy Home Care.
A private family Mass of Christian Burial occurred at Ss. Peter and Paul Catholic Church in Loretto. Inurnment with Military Honors was in Ss. Peter and Paul Cemetery. A Memorial Mass will be held for all at a later date.