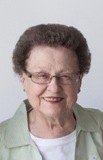 Joyce E. Janicula
December 21, 2018
Joyce E. Janicula, age 89 of Delano passed away at home surrounded by family on December 21st. She was born on May 24, 1929 in Hennepin County to John and Ruth (Pearson) Sinkel. She was baptized and confirmed by Edwin H. Bruns at Mt. Olive Lutheran Church in Delano.
Joyce married James Janicula of Delano and raised four children. They lived in Delano all of their lives. Her biggest joy was her family, which always came first in her life. She loved each Holiday season and made each one very special; she loved this time with her family.  She was a homemaker and wonderful cook and baker; many of the family members have some of her greatest recipes.
Joyce enjoyed gardening vegetables and flowers and was still canning and freezing the vegetables and making her home beautiful with the flowers in the planter for all to see. She also loved playing cards and games with family and friends; she was a competitive card player and it brought her much joy when her family spent this time with her.
Joyce was an active volunteer with Mt. Olive Ev. Lutheran Church for many years on the Altar Guild. She was an active fire lady and served as secretary for the Delano Ladies Fire Auxiliary for many years. She was a volunteer for the American Red Cross as a caller for blood donation, transportation of the blood and working of the canteen, also for many years.
Joyce was preceded in death by her parents, John and Ruth Sinkel, father and mother-in-law Frank and Clara Janicula, brothers John Jr., LeRoy, and Winslow Sinkel, sisters-in-law Marie, Pat, and Shirley Sinkel, Lorraine Janicula, Lorraine Meehan, and Carol Theisen, brothers-in-law Marvin Janicula and Arnie Mense.
Joyce is survived by her loving husband Jim of 72 years, loving family: sons Gary Janicula, Bruce (Linda) Janicula, daughters, Kathryn Quist and Lori (Brian) Anderson. Nine grandchildren, Kari (Steve) Rankin, Chad (Lacey) Quist, Ryan Janicula, Jesse (Logan) Janicula, Scott (Kelsey) Quist, Keegan Janicula (Sky Guthrie), Lesley (Ben) Berscheid, Barry (Sara) Janicula, and Chris (Andrea) Anderson. Fourteen Great-Grandchildren; Kaylee Kouri, Hailey, Madison, and Isabel Rankin, Brogan Stoddard and Taylor, Norah, Blair, and Cameron Berscheid, Casey and Mason Quist, Walker Quist, Dylan Janicula, and James Janicula. Sisters-in-law Pat Janecula and Elaine Mense, brother-in-law Harold Theisen. Many special nieces and nephews and many special friends.
Funeral Service was held at 11 AM on Saturday, January 5, 2019 at Mt. Olive Lutheran Church, Delano. Visitation was Friday, January 4, 2019 from 4 to 8 PM and continued Saturday 10 to 11 AM prior to the service, ALL at the church. Interment was in the East Mt. Olive Lutheran Cemetery in Delano.