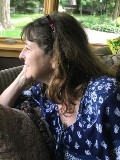 Julie A. Halvorson (Stutzman)
August 4, 2017
Julie Anne (Stutzman) Halvorson, aged 51 from Glencoe, passed away on August 4, 2017
after a courageous battle with cancer. Preceded in death by her father James Stutzman, she
is survived by husband Wade K. Halvorson III; children Cara, Reid, Benjamin, Gabriel, and
Wade IV; mother Susan (Klenk) Stutzman; sister Jennifer (Kerry) Ojibway; mother in law
Dr. Sandra Halvorson; sister in law Kathy (Dan) Deis; nephews and nieces Brenden and Kelly Ojibway; Emily, Allie, Mayme, and Daniel Deis.
Born on February 12, 1966 in St. Paul, Julie graduated from Prairie du Chien High School in
She attended Winona State University from 1984 – 1989, where she was a part of the
gymnastics team which won National titles in both 1985 and 1987. Julie was inducted into
the Collegiate Athletic Hall of Fame twice as a result of those efforts along with her
teammates.
Julie was an accomplished pianist and had a great love for music. In more recent years, she
added the cello to her musical repertoire. She loved sitting down and playing either
instrument in her spare time.
On July 17, 1992 she married Wade K. Halvorson III. A faithful wife and loving mother, their
children were her treasures on earth. Julie lived life to its fullest and loved deeply. She was
a friend to many, showing compassion to all. Julie cared for people and had a beautiful way
of making all feel welcome and at ease around her. Always up for an adventure and known
for her bent towards spontaneity, she excelled at "behind the scenes" surprises for others,
executed with a little gleam in her eye!
Her greatest adventure however, was following Jesus Christ. She loved Him above all else
with a great passion which was the driving force in all she did. Julie carried this treasure of
Christ within her earthly vessel, and has now faithfully won the prize of eternity with her
Savior.
"Many daughters have done well, but you excel them all. Charm is deceitful and beauty is
passing, but a woman who fears the Lord, she shall be praised. Give her the fruit of her
hands, and let her own works praise her in the gates". Proverbs 31:29-31
Memorial service 11 A.M. Wednesday, August 9, 2017 at Watertown Evangelical Free Church, 509 Jefferson Ave. SW. In lieu of flowers, donations can be made to the Halvorson Children Education Fund through Citizens Alliance Bank in Watertown, (952)955-2992.