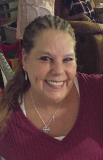 Katherine Kay Luper
March 21, 2019
Katherine Kay Luper, age 52 of Watertown, passed away unexpectedly on March 21, 2019 at her home. She was born on March 28, 1966 in Franklin, Indiana to Lewis McClain and Trela McClain. She was later adopted by Robert E. Thorne.
Katherine was a loving mother and grandmother. She will be missed deeply by her family and friends.
Katherine was preceded in death by granddaughter Cassandra. She is survived by her children Larry (Shelby) Fettinger, Heather Sgro, James Wilson, Kristen (Matthew) LaRowe, Amanda (Jeanetta Davison) Wilson-Davison; grandchildren Arie-Anna, Adriee-Anna, Trinity, Austin, Zexe, Nicholi, Grayson, Brandon, and Lillianna.
Private family services.