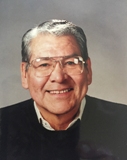 Keith "Pete" Allen
May 17, 2017
Keith "Pete" Allen age 79 of Maple Plain, Minnesota passed away on Wednesday, May 17, 2017 at his home. He was born October 23, 1937 to Ray and LaVerne (Redwing) Allen in Flandreau, South Dakota.
Pete graduated from Flandreau High School and went on to art school in Chicago, Illinois. Upon graduation he went to work at General Mills and made his home in Maple Plain, Minnesota. Pete was united in marriage to Joyce Schliinz on January 5, 1957 in Flandreau, South Dakota.
During Pete's career at General Mills he was employed as a graphic designer and was involved in the design of the Wheaties Box which are known throughout the world.
Pete loved to hunt and fish. In his early years, snowmobiling with family and friends was a passion. He was a gifted athlete and excelled in sports. His love of sports of all kinds continued over his life. His main love in life was his family; especially his children, grandchildren and great grandchildren.
Pete was preceded in death by his parents, Ray and LaVerne Allen and his 5 brothers and 1 sister. He is survived by his wife of 60 years, Joyce; children Robert (Rose) Allen, Randy (Debbie) Allen, Valerie (Dana) Oas; 9 grandchildren Nicki (Cass) Carlson, Tina Allen, Angie
Grabowski, Danielle Oas, Trevor Allen, Katie Allen, Keith Oas, Cody Allen, Ashley Allen; 12 great grandchildren Clayton, Ali, Paris, Brinn, Jaylee, Caitlynn, Chante, Blake, Jarrod, Drew, Jake, Caleb; brother Sam Allen; sisters Judy Allen, LaVonne "Bunnie" Allen and Cyndi Weddell.
Memorial services were held at 11 a.m. on Thursday, May 25, 2017 at Christ Lutheran Church in Maple Plain, Minnesota. Gathering took place on Wednesday, from 4-7 p.m. and continued on Thursday one hour prior to the services all at the church. Inurnment was in the Lewis Cemetery in Maple Plain, Minnesota following the luncheon.