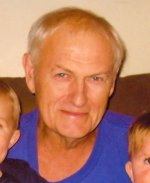 Kenneth A. Leuthner
3/22/2010
Kenneth A. Leuthner, "Ken" age 61 of Watertown passed away after a courageous battle with cancer on Monday, March 22, 2010 in Rochester, MN. He was born October 31, 1948 to Lawrence and Helen (Eiden) Leuthner in Watertown, Minnesota.
Ken was preceded in death by his parents Lawrence and Helen Leuthner. He is survived by his loving wife of almost 40 years, Bev; children Tara Mokaya, Ben and Amy Leuthner, Rachael and John Kantaris, Adam and Katie Leuthner; 6 grandchildren Kami Bogenrief, Alia, Katelyn, Noah, Addison, and Paul Leuthner; 5 siblings and spouses Doris and Charlie Burns, Diane and Cal Rolfzen, Ron and Sherie Leuthner, Stan and Margie Leuthner, Al and Karen Leuthner; parents-in-law Jim and Gibber Motzko; brothers-in-law and sisters-in-law Ron and Georgie Motzko, Nancy and Jerry Fiecke, Joe and Debbie Mauk, Jim Motzko Jr., Tim and Judy Motzko.
Mass of Christian Burial will be held on Thursday, March 25, 2010 at 11 a.m. at Immaculate Conception Catholic Church in Watertown, Minnesota. Visitation will be held on Wednesday from 4 to 8 p.m. and continues 10 to 11 a.m. Thursday all at the church. Rev. Frank Wampach will officiate at the Mass with interment in the church cemetery.