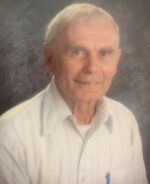 Kenneth E. Barlau
December 31st, 2022
Kenneth Ervin Barlau age 88 of Delano passed away on Saturday, December 31, 2022, peacefully at his farm home surrounded by his family. He was born September 30, 1934, to Ervin and Ruby (Horejsi) Barlau in Woodland Township, Minnesota.
Ken was a loving husband, wonderful father, and hardworking grandfather. He loved to take his family on road trips. Camping up north or trips to the lake were something to look forward to. He loved to spend time with his family. Ken also found a particular joy in mowing his lawn, especially when up at the cabin. Teaching and spending time with his grandsons on the farm were special times that will be treasured. He will be dearly missed, "Thank you dad for everything".
Ken was preceded in death by his son-in-law Larry Hartman; his parents Ervin and Ruby Barlau; siblings Joyce and Jerry Donaghue, Janice and Donnie Quint, Carol Thomson, Patty Barlau; parents-in-law Arthur and Esther Leisso; brother-in-law William "Bill" Leisso. He is survived by his wife Diane of 58 years; children Rochelle Hartman, Lee (Angie) Barlau; grandsons Aiden Barlau and Landon Barlau; sister-in-law Sandy Leisso and family, Dave and Nancy Leisso and family and Marvin and AJ Leisso and family.
A celebration of life service is planned for some time in summer.