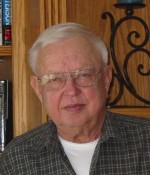 Kenneth (Ken) Kasma
December 10, 2019
Kenneth L. "Ken" Kasma, age 90 of Delano, formerly of New York Mills.
Loving father, grandfather, great grandfather, brother, uncle and friend. Longtime Sinclair gas station owner in Minneapolis and Edina. City of Minnetonka worker for 10 years and in retirement worked for 20+ years in his family's All Seasons Sports Business in Delano.
Preceded in death by wife Mae. Survived by daughters Wendy (Ed) Otto, Pam (Jack) Lynch; grandchildren Paul (Cara) Otto, Julie (Jeff) Greely, Shawn (Cindy) Lynch, Heather Lynch; great grandchildren Mya, Megan, Casey, Avery, Breana, Hayden; siblings Clinton (Jana) Kasma, Joyce Schwartz.
Funeral service 11 a.m. Wednesday, December 18, 2019 at St. Peter Catholic Church, Delano. Visitation 4 to 8 p.m. with a 7:30 p.m. prayer service Tuesday and continues 10 to 11 a.m. Wednesday in Martha's Hall of St. Peter Catholic Church. Interment Thursday at noon in Woodland Cemetery in New York Mills.