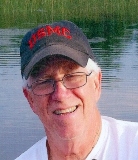 Kenneth W. Krass
November 20, 2019
 Kenneth W. Krass (Ken), age 73 of Montrose, passed away peacefully at home on November 20, 2019 after a three month battle against pancreatic cancer.
Ken was born in Palo Alto, California on February 19, 1946 to Edward and Laura (Dumas) Krass. Ken grew up and lived in California until moving to Minnesota in 2001. At the age of 17, he enlisted in the Marine Corps serving 4 years as an aircraft mechanic until he was honorably discharged in 1967.
Ken worked in the aerospace industry for many years, including on the Space Shuttle Program from its inception. In 2001, after retiring from 28 years with Boeing, he began working in quality control for Phoenix Solutions, retiring in 2015 after 14 years.
For years, Ken was extensively involved in various roles with youth softball and baseball while his sons played. He enjoyed bass fishing, camping and restoring motorcycles. In the late 1980's, he completely restored a 1951 Ford Coupe named Marigold. He had a lifelong love of woodworking, and in his retirement years, focused on making one-of-a-kind wood pieces and furniture. In his pastime, Ken enjoyed going to flea markets, searching for items to repurpose for his creations. He was very proud of his beautiful backyard pond where he grew water lilies and protected snails, frogs and fish. He loved watching birds and other wildlife and he cared unconditionally for nature. Leo, the cat, was his special family member.
Though Ken had a long list of interests and hobbies, his biggest passion by far was his family. His way of expressing love was by "doing" for them which he demonstrated daily in small ways, and many times in big ways. He was dedicated to his wife and sons as a provider, a fixer and a problem solver.
Ken was preceded in death by his parents, Edward and Laura and sister, Diana. He is survived by his wife of 51 years, Karen and sons Aaron and Michael. Though he was born into a small family, he opened his heart to Karen's family and adopted them as his own.
A Celebration of Life with Military Honors was held at 2 PM on Sunday, December 1, 2019 with a Gathering of family and friends following until 5 PM all at the Delano American Legion, 240 Babcock Blvd. W, Delano. Inurnment will be at a later date in Fort Snelling National Cemetery in Minneapolis.
In lieu of flowers, the family intends to restore Ken's beloved pond which fell into disarray during his illness. Any memorials received will be put to this project.