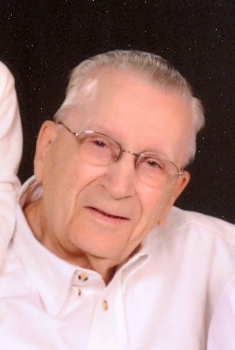 Ledyard Burhans
11/25/2010
Ledyard Newhouse Burhans age 90 of Delano passed away on Thursday, November 25, 2010. He was preceded in death by his parents Ira Hatch and Millie Christina Newhouse Burhans; brother Chandler; sisters Barbara C. Ellingsen and Jean C. Tedholm.
He is survived by his loving wife Grace Bodlak Burhans; daughters Gail D. Quinn and Carol G. Burhans; grandchildren Victoria Maidl and Aidan Quinn; brother and sister-in-law Ira N. and Barbara Burhans; sister Natalie A Haugo.
Ledyard was born in Crookston, Minnesota on September 30, 1920 and raised in Stephen, Minnesota. He graduated from Northwest School of Agriculture, Crookston, Minnesota; Bemidji State Teachers College with a Bachelor of Science degree; the University of North Dakota with a Master of Science in Education; and Bemidji State University with a degree in Elementary Education. Ledyard was a member of the original (1946) hockey team at Bemidji State College and also played on the University of North Dakota Hockey team.
As a sergeant in the U.S. Army during World War II, he served in the Asiatic-Pacific Theatre and the Phillipine Liberation in one major campaign.
Ledyard was a science teacher and principal of schools in North Dakota, Wisconsin and Minnesota for 35 years. The last nineteen years of his teaching career was as a sixth grade teacher in the Delano Middle School. In his 19 years, he missed only four days of school. In the last 12 years, he missed none.
Superintendant Jim Tool presented him with a school bell engraved with "Delano Schools….1967—1986….Attendance Champion. He served one term on the Delano School Board after retiring in 1986.
Ledyard was married to Grace J. Bodlak for 47 years. They have two daughters; Gail D. Quinn and Carol G. Burhans. Grandchildren Victoria "Tori" Maidl and Aiden Quinn.
A member of the Delano American Legion Post #377; Veteran of Foreign Wars Post #1901. Masons Hiram Lodge No. 287, Lindstrom, Minnesota.
His interests included cars, driving, traveling, Vikings football, bird watching, and just living outdoors.
Funeral services were held on Wednesday, December 1, 2010 at the Delano United Methodist Church at 11 a.m. Interment with military honors took place at Ft. Snelling National Cemetery in Minneapolis, Minnesota. Pastor Matt Sipe officiated at the services. Casket bearers were Hugh Burhans, Deon Lausche, Howard Bremmer, Marty Howes, Merrill Pavlovich and Thomas Berggren. Honors were provided by the Delano American Legion and the Ft. Snelling Memorial Rifle Squad.