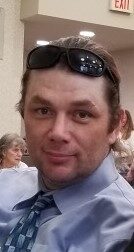 Lee Topel
September 5, 2022
Lee Kenneth Topel age 39 of Winsted, formerly of Watertown passed away unexpectedly on Monday, September 5, 2022. He was born April 19, 1983, to Ralph and Jan (Gittins) Topel in Coon Rapids, Minnesota.
Lee had a heart of gold. He loved his children and his family and showed it with his actions. He was hard working at times and full of fun all the time.
Lee was a resident of Watertown for his entire life other than the last year in Winsted and a period of living in Minneapolis years ago. He was preceded in death by his grandparents Leo and Elizabeth Topel, Kenneth and Annette Gittins. He is survived by his children Breauna Topel and Leo Topel; parents Ralph and Jan Topel; siblings Brian (Gretchen) Eychaner, Kimberly Topel Berzins; mothers of his children Rebecca Stauffer and Haley Heck; as well as many close friends.
Memorial Mass of Christian Burial was held on Tuesday, September 13, 2022, at 11 a.m. at Immaculate Conception Catholic Church in Watertown, Minnesota. Gathering of family and friends took place from 10 to 11 a.m. in the church on Tuesday prior to the Mass. Inurnment was in the Calvary Cemetery in Delano, Minnesota.