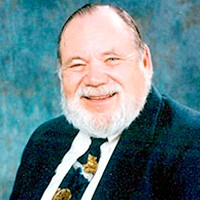 Leighton R. Johnson
Feb 23, 2016
Leighton Robert Johnson, age 83 of Waverly & Minneapolis, died February 23, 2016. He was born March 3, 1932 to Leighton and Phyllis (McKenty) Johnson in Minneapolis, Minnesota.
He is survived by beloved wife of 62 yrs, Genevieve (Dougherty); children Leighton (Elaine dec.), Peter (Sandy), Cathy (Jim) Nelson, Dan, Sarah (Chris) Aronovici; sister Phyllis of Faribault; grandchildren; great-grandchildren.
Leighton was preceded in death by his son Joseph Brian and a brother Don. He served in the U.S. Army during the Korean War. Leighton enjoyed being principal in Archdiocesen schools, he served at Winsted Holy Trinity, St. Francis Xavier in Buffalo and Pious X Catholic School in Glencoe, Minnesota. Leighton received an award for excellence in education from Ronald Reagan. He loved his family, hunting, the Twins, reading, and church.
Mass of Christian Burial was held on Friday, February 26th at 2 pm at St. Olaf's Catholic Church in Minneapolis, Minnesota. Visitation took place from 1-2 pm prior to Mass on Friday. A memorial gathering took place at the Church St Mary's in Waverly, Minnesota, Sunday February 28, 2016 from 2-3 pm with K of C Rosary at 3 pm.