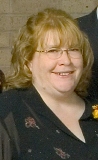 Leilani M. Westrum (Goss)
February 14, 2018
Leilani Marie Westrum, age 60, of Delano and formerly of Cass Lake, passed away on Wednesday, February 14, 2018 unexpectedly at the Methodist Hospital in St. Louis Park. She was born on October 15, 1957 in Bemidji, Minnesota to Richard and Jackie (Hill) Goss.
Leilani grew up in Cass Lake. She graduated from Bagley High School. She married Ricky Owen Westrum on September 20, 1974. Leilani obtained an Associate's Degree from the MN School of Business in Accounting and Business Management. She worked as an Associate Business Manager for AT&T/Directv.
Leilani was preceded in death by her parents Richard Goss and Jackie (Jasper) Souder; brother James Goss; son Chad Westrum. She is survived by her husband of 43 years Ricky, Sr.; children Jesse (Shannon), Ricky, Jr. (Christine), Wallace (Tamara), Jamie Westrum-Hintz (Jamie) and Casey; 20 grandchildren Willy, Cambel, Amber, Cassandra, Dylan, Kelly, Tyler, Jade, Samantha, Rebecca, Jennifer, Morgan, Bridget, Kylie, Riley, Logan, Andrew, Kamryn, Jackson and Hattie; 1 great granddaughter Cadence; siblings Cynthia Goss, Richard (Connie) Goss and Constance Goss; sister-in-law GerryAnn Goss; many nieces and nephews and many co-workers who have become like a second family.
Funeral Service was held at 11 AM on Saturday, February 24, 2018 with visitation from 9-11 AM, prior to the service, at the Iten Funeral Chapel in Delano. Inurnment at a later date in Pine Grove Cemetery in Cass Lake. In lieu of flowers, memorials preferred.