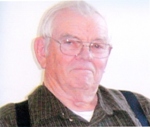 Leo James Neaton age 79 of Montrose passed away on Friday, Nov. 5, 2010 at Good Samaritan Society in Howard Lake, Minnesota. Leo was born Aug. 10, 1931 to Thomas and Katherine (O'Brien) Neaton in Woodland Township, Minnesota.
He was a resident of Woodland Township for 72 years. On Sept. 16, 1961 Leo was united in marriage to Helen Bokusky at St. Peter Catholic Church in Delano, MN. They were blessed with two children: LuAnn and Martin. Leo worked at many places including Pako and Sanofi Diagnostics Pasteur. Leo loved to travel and later in life did woodworking for his family members.
He is survived by his wife Helen of Rockford; daughter LuAnn (Thomas) Schendel; son Martin (Mary) Neaton; grandchildren Michelle, Michael, Keith, Davette (James); one great grandson Amiel; sister Helen (Dennis) Kittock; numerous family and friends; and grand-dog Daisy. Leo was preceded in death by his parents and a sister Alice.
Mass of Christian Burial was held on Tuesday, November 9, 2010 at 10 a.m. at Church of St. Mary in Waverly, Minnesota. Rev. Timothy Cloutier celebrated the Mass with interment in the church cemetery.