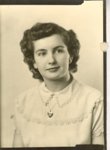 Leona "Betty" Dietrich, age 80 of Waconia, Minnesota, formerly of Independence, Minnesota, passed away peacefully on May 17, 2010, surrounded by family. She was born December 6, 1929 to Robert and Rose (Stromberg) Pool in Independence, Minnesota.
Betty was preceded in death by her parents Robert and Rose Pool and two siblings. She is survived by her husband Kermit; daughters Deb and Dennis Pouliot, Chris and Kevin Lindemer, Lisa and Marty Dietrich-Blocker; grandchildren Jeff (Alyssa), Anna, Justin (Sarah), Matt, Josh, Emily, Charlie, Sam; three surviving brothers and numerous other family members.
Betty loved doll collecting, camping, fishing, painting and her animals. Heartfelt thanks to the caring staff of the Lighthouse of Waconia and the Ridgeview Hospice.
Funeral services were held on Thursday, May 20, 2010 at 11 a.m. at Mt. Olive Lutheran Church, 435 E. Bridge Ave. Delano, MN. Pastor Robert Hellman officiated with interment in the Lewis Cemetery, Maple Plain, Minnesota. In lieu of flowers, memorials preferred to donor's choice.