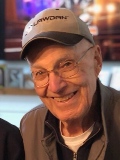 LeRoy (Roy) Spurzem
July 20, 2018
LeRoy John Spurzem, age 92 of Delano, formerly of Loretto, passed away on Friday, July 20, 2018. Loving husband, father, grandfather and great grandfather. Preceeded in death by son, Lee; infant granddaughter Jaunich; great grandson Leo Gappa. Survived by wife of 70 years, Rosemary (Schumacher); children Larry (Patricia), Loren (Joyce), Lenore (Robert) Gabrelcik, Christel (Paul) Jaunich, Mary (Tony) Hitchings; 11 grandchildren; Mindy (Mark) Bersie, Marissa (Jason) Winter, Sarah Primus, Jake (Teresa) Spurzem, Lee Ann (Justin) Wisman, Joe (Amanda) Hitchings, Kelsey (Steve) Gappa, Trevor and Ariel Jaunich, Cassie (JT) Koehn), Kandi (Eric) Elfering; 16 great-grandchildren plus twins arriving in August.
Roy loved his family and truly enjoyed the company of his immediate and extended family at their frequent gatherings. He reveled in watching his kids, grandkids and great-grandkids in their many sports activities and bragging about their athletic accomplishments.
In addition to his family, Roy had a passion for other life activities. He loved to fish, winter or summer, and share the experiences and fish stories with his fishing buddies. He was a loyal Twins and Vikings fan, through the many ups and downs of our local professional sports teams.
Roy was a Navy veteran, having served on the USS William Mitchell at the conclusion of WWII. We thank him for his service.
Roy's volunteerism was legendary. He was a charter member of the Loretto Lions, serving as treasurer for many years, and was actively involved, among many other projects, in organizing blood drives, selling Christmas trees and delivering fruit baskets to senior citizens. As a member of the Knights of Columbus, he assisted with pancake breakfasts, raffles to raise funds for SS Peter and Paul Church and many other ventures in support of the church and community. He was also a charter member of the Loretto Fire Department. His community was a better place due to his active involvement.
For many years Roy served as a tax preparer for senior citizens, often taking classes to keep abreast of tax law changes to better serve those who depended on him to prepare their taxes.
Whenever a helping hand was needed, Roy could be counted on to offer assistance to any project or task, large or small, occasionally putting to use his excellent carpentry skills. The lectern at SS Peter and Paul Church is a representation of his handiwork.
Mass of Christian Burial was held at 11 a.m. on Wednesday, July 25, 2018 at St. Peter Catholic Church, Delano. Visitation took place from 4 to 8 p.m. Tuesday with a 3:30 p.m. rosary service and 8 p.m. prayer service and continued Wednesday from 10 to 11 a.m. prior to the Mass. All in Martha's Hall of St. Peter Catholic Church. Interment with military honors was in the SS Peter and Paul Cemetery, Loretto, MN.
In lieu of flowers, a donation to Prolife Across America would be appropriate.