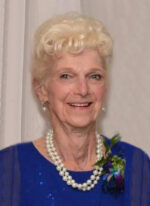 Lilyann "Dolly" Secora
January 4, 2021
Lilyann "Dolly" Grace Secora, age 85 of Loretto, formerly of Delano, MN, walked into Heaven's gates on January 4, 2021. She was born October 15, 1935 in Swift Falls, MN, the daughter of John and Lillie (Anderson) Johnson.
Dolly graduated from Buffalo High School and attended cosmetology school, becoming a licensed beautician, something she enjoyed doing for all of her life. She did hair for many years from her home, as well as at the Delano Manor, Villa, and Iten's Funeral Home. Her daughters, sons-in-law, and grandchildren were her constant customers, too.
Dolly also worked for and retired from the Delano Post Office after 12 years as a postal clerk.
On June 28th, 1958, Dolly Johnson and Raymond Secora were united in marriage at Corpus Christi Catholic Church in St. Paul, MN. They started out living in Glencoe, MN and moved to Delano, MN in 1971. After Ray passed away in 1987, Dolly continued to live in their home until 2005 when she moved to Loretto, MN. Her farm roots ran deep, and she truly enjoyed mowing the huge lawn there and even drove the hay baler when help was short.
Dolly was a faithful member of St. Joseph's Parish in Delano. She was Treasurer for the Rosary Society and served regularly on funeral committees and at other parish events. After moving to Loretto, she became a dedicated sub for the Our Lady of Loretto Adoration Chapel.
Dolly enjoyed walking 5 miles a day, polka dancing, playing cards, mowing lawn, and baking. She never missed making a birthday cake for one of the grandkids, and her famous Swedish meatball dinner was a treat every Christmas Eve.
She was preceded in death by her husband, Ray; infant son, Ronald; grandson, Stephen Elsen; parents, John P. and Lillie (Anderson) Johnson; infant brother, Harry David Johnson; brother, John M. Johnson; sister, Joni Epple; nephew, David Johnson; sisters-in-law, Eleanore Florek, Gerry Lowe, Eileen Gretch; brothers-in-law, Gene Florek, Jim Rassatt, Ozzie Lowe.
Dolly is survived by her daughters, Sherry (Greg) Elsen, Sandy (Dan) Alger, Susie (Randy) Elsen; 14 grandchildren, Ron (Amy) Alger, SFC Eric (Isidra) Alger, Katie Alger, Megan (Paul) Affeldt, Kristi (Blake) Beaudry, Paul and Jenny Elsen; Joe, Mary, Kate, Peter, Julie, Laura, Nina Elsen; 10 great grandchildren; siblings, Lloyd (Orle) Johnson, Roger (Donna) Johnson, Janice (Joe) Kieser, Evelyn Rassatt, Kenny (friend, Nancy) Johnson; sisters-in-law, MaryLou Johnson; brothers-in-law, Herman Epple and Bob Gretch; and many nieces, nephews, family and friends.
Private Mass of Christian Burial was held at 11 AM on Saturday, January 9th, 2021 at St. Maximilian Kolbe (St. Peter Campus), Delano. Public Visitation was from 9-10:15 AM Saturday at Iten Funeral Home, Delano. Interment was in St. Joseph Catholic Cemetery, Delano.
The Mass was livestreamed on the Iten Funeral Home Facebook page.
To view, please copy/paste the following link into your internet browser
https://www.facebook.com/events/407321403936607/