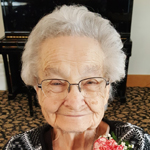 Lorraine M. Lynch
March 4, 2017
Lorraine M. Lynch, age 88 of Watertown, passed away peacefully on Saturday, March 4, 2017 with her family by her side. She was born on January 8, 1929 in Woodland Township, Wright County, Minnesota to George and Susan (Gallus) Swartzer.
Lorraine was united in marriage to Emmett D. Lynch on January 20, 1951 at St. Mary of Czestochowa Catholic Church in Delano. She was devout in her faith and was an active member of the Immaculate Conception Catholic Church in Watertown, serving in many capacities. Lorraine worked as a nurse, EMT and ambulance driver in the Watertown area. She was also involved with the American Red Cross for over 50 years. Lorraine was a member of the Watertown American Legion Auxillary for over 63 years; serving as an officer over 25 years. She was also a member of the Montrose VFW Auxillary, Watertown City Council and Watertown Garden Club. She loved to spend time with her family and trips to the hunting shack up north.
Lorraine was preceded in death by her husband of 58 years Emmett; daughter Margaret; parents George and Susan Swartzer; parents-in-law John and Josephine Lynch; siblings Gladys, Donald, George Jr., Jack , Marvin and Walter Swartzer; brothers-in-law and sisters-in-law Tom Kuka, Leo Blackketter, Louie Bury, Sandy Swartzer, Mary Helen Swartzer, Marguerite Swartzer, Laurie Swartzer, Edward and Genevieve Lynch, Leon Lynch, Ambrose Lynch and Ben Lachermeier.
Lorraine is survived by her children Mary (Fred) Muhs, Pat (Joan) Lynch, Mike (Cindy) Lynch, Emmett J. (Belinda) Lynch, Joe (Mary) Lynch, Tim (Debbie) Lynch; 18 grandchildren Greg (Amy) Muhs, Laura (Brian) McSwain, Stephanie Muhs (special friend Karl Eaton), Katie (Adam) Leuthner, Emily (Phillip) Victory, Anna (Ryan) Sandquist, Aaron (Jennifer) Lynch, Matt (Paige) Lynch, Christine (William) Spomer, Colleen (Tim) Norman, Cordell (Terese) Lynch, Audrey (Kyle) Rogers, Emmett James (Kimberly) Lynch, Allison (Corey) Moses, Amy (Dustin) Kammerer, Rachel Lynch, Amanda (Connor) Klovstad and Victoria Lynch; 25 great grandchildren; siblings Betty Bury, Joe (Dorothy) Swartzer, Luverne Blackketter, Marion Kuka, Susan (Ed) Windsperger, Bob (Mary) Swartzer, Ervin (Renee) Swartzer, Gene Swartzer, Anthony Swartzer, Peter (Alice) Swartzer, sisters-in-law brother-in-law Irene Swartzer, Rosemary Swartzer, Marcella Lachermeier, Jim Lynch, Carol Nelson and Mary Jane Geyen Lynch as well as many nieces, nephews, cousins and friends.
Mass of Christian Burial was held at 10:30 AM on Wednesday, March 8, 2017 at Immaculate Conception Catholic Church in Watertown. Visitation was Tuesday, 4-8 PM and continued Wednesday, 9:30- 10:30 AM with a 9 AM Rosary, prior to the Mass, ALL at Immaculate Conception Catholic Church. Interment was in the church cemetery.