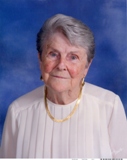 Louise K. Werbowski
January 21, 2018
Louise K. Werbowski, age 99 of Loretto, passed away on Sunday, January 21, 2018 at Haven Homes in Maple Plain. She was born on April 2, 1918 in Loretto, the youngest of 12, to Michael and Catherine (Altendorf) Jacobs.
Louise was united in marriage to John Werbowski in 1937. She was a homemaker and worked as a seamstress out of her home. She was a life-long member of Ss. Peter and Paul Catholic Church in Loretto. She was a very active volunteer in church and school activities, taught CCD, director of the adult's and children's choirs, member of the CCW and PTA. She ran the Loretto Quilters, where all donations were given to the church. She was also a 4-H Leader.
Louise was self-taught when it came to sewing and music. She enjoyed sewing for her family; making clothes for her children and quilts for her grandchildren and great grandchildren. When it came to music, she would ensure every group in the choir had a musical score for a song, going as far as writing it herself when needed.
Louise was preceded in death by her husband John; parents; 11 siblings and their spouses. She is survived by sons Dennis (Susan), Duane (Connie) and Davie (Cristina) Werbowski; daughters Marlis (Ronald)Doboszenski and Mary Lee (Tom) Underhill; 13 grandchildren; 19 great grandchildren; sister-in-law Dorothy Werbowski; many nieces, nephews, other relatives and friends.
Mass of Christian Burial was held at 11 AM on Wednesday, January 24, 2018 at Ss. Peter and Paul Catholic Church in Loretto. Visitation was Tuesday, 4-8 PM with a 7:30 PM Prayer Service, at the Iten Funeral Home in Delano. Visitation continued Wednesday, 10-11 AM, prior to the Mass, at the church. Interment was in the church cemetery. In Lieu of flowers, memorials preferred.