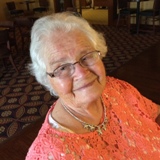 Luella Blanchette
July 28, 2018
Luella M. Blanchette, age 86 of Rogers, formerly of Loretto, passed peacefully on Saturday, July 28, 2018 (Loretto lost another Rebel). She was born on August 13, 1931 to John and Marie (Koch) Lynch.
Luella was preceded in death by her husband LeRoy; parents; brothers Harold and Marvin. She is survived by daughters Kathy (Don) Olson and Bonnie Sinkel; sons Gary, Tom (Angie), Joe (Shelly) and Bud (Chris); 13 grandchildren; 13 great grandchildren; brothers Tony and Lawrence (Marlys).
Memorial Mass of Christian Burial was held at 11 AM on Saturday, August 4, 2018 at Ss. Peter and Paul Catholic Church in Loretto. A Gathering of family and friends was Saturday 10-11 AM prior to the Mass at the church. Inurnment was in the church cemetery. In lieu of flowers, memorials are preferred.