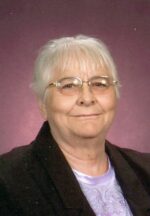 Luverne Blackketter
December 23, 2020
Luverne Susan Blackketter (Swartzer) age 86 of Delano, Minnesota passed away on Wednesday, December 23, 2020 at the Garden of Winsted. She was born on May 4, 1934 in Woodland Township, Wright County, Minnesota to George and Susan (Gallus) Swartzer.
Luverne graduated from Delano High School in 1952. She married Leo Blackketter on June 25, 1955. They raised eight children.
Luverne was a loving wife, mother, grandmother, great grandmother, sister, aunt, and friend. She was a member of the Immaculate Conception Catholic Church in Watertown, Minnesota. She was also a member of the Watertown American Legion. She enjoyed embroidery, sewing, baking, canning, playing cards and bingo, and spending time with her family.
Luverne was preceded in death by husband of 51 years, Leo; son-in-law Mike Harding; parents; siblings Gladys, Donald, George Jr., Jack (Marguerite), Marvin (Laurie), Walt, and Joe Sr. Swartzer and Lorraine (Emmett) Lynch; brothers-in-law Tom Kuka, Louie Bury, Ed Blackketter, Donald (Georgia and Lonnie) Blackketter, and John Cebulla; sisters-in-law Sandy Swartzer and Mary Helen Swartzer.
She is survived by sons Al (Pam) Blackketter, Tony (Pam Johnson) Blackketter and Jim Blackketter; daughters, Kathy (Butch) Darsow, Giny (Mark) Karels, Nancy Harding, Donna (Kenny) Pearson, and Chris (Kevin) Pearson; 21 grandchildren; 26 great grandchildren; sisters Betty Bury, Marion Kuka, and Susan (Ed) Windsperger; brothers Bob (Mary Lynn), Ervin (Renee), Gene, Tony, and Peter (Alice) Swartzer; sisters-in-law Irene, Rosemary, Dorothy, and Cathy Swartzer and Joanne Cebulla; many nieces, nephews, other relatives and friends.
Mass of Christian Burial was held at 11 AM on Thursday, December 31, 2020 at the Immaculate Conception Catholic Church in Watertown. Visitation was from 10 to 11 AM prior to the Mass at the church. A Rosary service was at 9:30 AM prior to the visitation in the church. Interment was in the church cemetery. Memorials preferred to Alzheimer's Assoc (alz.org) or to a charity of your choice. A Special thanks to the nurses and caregivers at The Gardens at Winsted and Moments Hospice.
The Mass was livestreamed on the Immaculate Conception Church Facebook page.
A video of the Mass can be found on the Iten Funeral Home YouTube page, or through the link provided below: