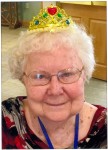 Marcella A. Borrell
June11, 2020
Marcella A. Borrell, age 91 of Mahtomedi (formerly Waverly), Minnesota passed away peacefully June 11th, 2020. Marcella was born January 14, 1929 in Maple Lake, MN to Joe and Florence Zumbusch and raised on a nearby farm. She graduated from Maple Lake High School in 1947, married Donald F. Borrell on May 4th, 1951 and they had three children. She worked for the City of Crystal for 26 years, and after retiring, she and Don moved to a lake home in Waverly where they enjoyed hosting many family gatherings.
Marcella was preceded in death by her husband Donald on November 15th, 2004; sisters Joyce and Mildred; brothers Doug and Gordon. She is survived by her children Gary (Janice) Borrell, Greg (Kim) Borrell and Laurie (John) Hamerly; 9 grandchildren Alyse (Micah), Phil, Katie, Amy (Andrew), Robin, Nick, Katie, Ross, and Maggie; 2 great grandchildren Parker and Madison.
In light of Covid concerns, a Private family Mass of Christian Burial was at the Church of St. Mary in Waverly with interment in the church cemetery.