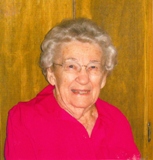 Margaret A. Groskreutz
November 25, 2017
Margaret Ann Emily Euerle Groskreutz (Mrs. Louis Groskreutz), age 92, of Delano, died Saturday morning, Nov. 25, 2017 at the Lakeside Oasis in Buffalo. She was born May 29, 1925 to Albert and Clara (Ramthun) Euerle. On September 11, 1945, she was married to Louis W. Groskreutz at St. Matthew's Evangelical and Reformed Church in Forest City, MN.
While dancing with Louie was her favorite pastime, she also found great happiness making dish cloths and baby sweaters on her knitting machine even up to the last week before she passed. Family, friends and customers from miles around have enjoyed them for 45 years.
She is survived by her son James (Margaret/Peggy) of Delano; daughter Mary (Richard) Drysdale of Helena, MT; 5 grandchildren and 11 great-grandchildren; 2 brothers, Lennox and Gerald, and sister, Annette Knutson and many nieces and nephews. She was preceded in death by her husband Louis; parents: Albert and Clara Euerle, brothers: William, Fred, Albert and Burton.
Memorial services were held at 11 AM on Friday, December 1, 2017 at St. Paul's United Church of Christ in Delano. A Gathering of family and friends was held on Thursday, from 4 to 8 PM at the Iten Funeral Home in Delano. The gathering continued Friday, 10-11 AM, prior to the service, at the church. Inurnment was in the church cemetery.
In lieu of flowers, memorials are preferred to the St. Paul's United Church of Christ Cemetery Fund.