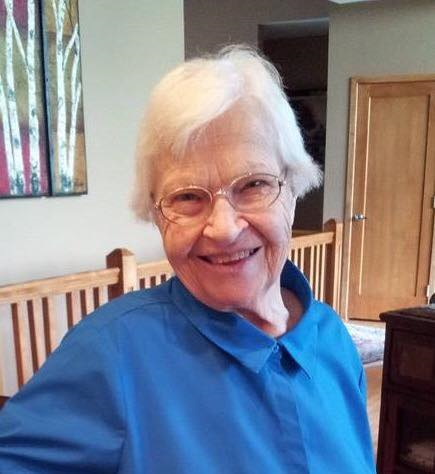 Marie M. Lowery, age 85 of Independence, devoted loving wife, mother, grandmother and great grandmother, passed away peacefully on February 3rd, 2015. She was preceded in death by her sister Anne Lee and is survived by her husband of 59 years Robert, her children David (wife Kathy), Ingrid Baty, Kenneth (wife Christine), Erika (husband Tom) Solom, and Tom (wife Tammy). Marie's grandchildren are Kristin, Katelyn, Anna, John, Jeremy, Amy, Theresa, Kyle, Nick, and Ally. Her great grandchildren are Ashley, Luke and James. The funeral service was 11am Friday, 2/6/2015, at Maple Plain Community Church in Maple Plain, MN. Interment was in the Lewis Cemetery, Maple Plain, MN.
Marie was born in the Sudetenland of Germany in the small, picturesque village of Unter Wekelsdorf, July 13, 1929, the youngest of four children. Marie's school was beyond one of the surrounding mountains and access required a long daily hike or cross-country ski back and forth over the mountain pass.
Her father, Alois was mayor, fire chief and a handyman who repaired virtually everything for everyone. Her mother, Franscesca, was a gentle-spirited, servant-hearted blessing to all. Marie quoted her mother's wise counsel throughout her life. Tragically, Franscesca died of cancer at age 42 when Marie was only 10 years old. Marie then moved to live and work on the farm and feed mill business of her aunt and uncle.
Marie's excellent schoolwork entitled her to attend business school with a small group of classmates. With the beginning of WWII, her difficult life became even more challenging. Friends and family were killed or disabled and there were great losses of property. The social fabric of the community was forever destroyed.
At the end of the war, Sudeten Germans were randomly deported with a single suitcase to various parts of either East or West Germany. Marie thus found herself separated from all acquaintances and family in East Germany. She worked in a textile factory, with bare subsistence food, clothing and shelter.
In an effort to reunite with her remaining family, she plotted with a friend to escape to West Germany. Despite being turned back at gunpoint on their first attempt and being threatened with imprisonment or worse, they tried again. The two girls walked all night across unknown country in an effort to avoid searchlights, roads and populated areas.
In the morning, they were relieved to find that somehow they had crossed into West Germany. Still in jeopardy of capture and return to the East, they decided to take a train farther into West Germany. Alone on a large train station platform in the middle of the night, they anxiously discussed the confusing train schedule options. Suddenly, a little old man seemed to appear out of nowhere and indicated the correct train.
The man then advised the girls to hide in a restroom until morning; afterwards, he disappeared like an angel. After another sleepless night hiding in bathroom stalls, they succeeded in boarding a train by which they eventually arrived at an interior integration staging area where they were granted West German residency.
Shortly afterwards, a girl named Erna, who would become a lifelong friend, hailed her from an upper window shouting, "Hi! Do you need a friend?" Erna and her family gave Marie a place to stay until she found work and lodging with the Hunz family. Marie handled scheduling and recordkeeping for the Hunz's business as well as the family housekeeping. Marie quickly became a valuable employee and a beloved part of the family. By including Marie in family activities and travel, the Hunz family gave her first exposure to a broader German culture of arts & music and different areas of the country.
Anxious to see her sister Anne, who had married an American GI, Marie travelled to the US and took temporary work as a cook and housekeeper at Twin Birch Nursing Home in Spring Park, MN. This is where she met Robert Lowery who was staying in a temporarily vacant room.
Shortly thereafter, they married in Navarre, MN and began their life together in a small trailer home in rural Independence, MN. After a few kids and frugal years of saving, Eldon and Leona Anderson as well as others from Maple Plain Community Church, assisted them to build the home in which they lived for the rest of their life together.
Through the years of raising five children, Marie worked continuously to meet the needs of the family household. She also worked at various outside jobs including a catering business, overnight shifts at a commercial bakery and the Orono High School cafeteria.
In 2002, Marie's congenital atrial fibrillation resulted in a stroke; from which she fully recovered, but required ongoing use of Coumadin blood thinner. With regular clinical guidance, Marie carefully managed the sensitive dosing balance of this drug with remarkable success for over 12 years.
However, recently this balance became badly upset, requiring hospitalization and a temporary move to skilled care at Haven Homes in Maple Plain, MN. In her first few days, recovery appeared to be progressing well. But on February 3, 2015, Marie's blood pressure began to drop; she lost consciousness and passed away holding hands with Robert at her bedside.
Marie leaves a legacy of perseverance under adversity, industry, strong convictions, faith in God, service in church and community, and a deep commitment to intercessory prayer support of family and friends which is a continuing motivational example. She will be sorely missed as her loved ones face future challenges.