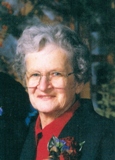 Marie Victoria Rasset (Schmidt)
February 26, 2018
Marie Victoria (Schmidt) Rasset, age 92 of Montrose, passed away peacefully Monday, February 26, 2018 at St. Mary's Care Center in Winsted, MN surrounded by family. She was born August 14, 1925 in Montrose, Minnesota to Arnold and Victoria (Lyrek) Schmidt.
Marie was united in marriage to Jay Rasset on February 23, 1946 at St. Mary of Czestochowa Catholic Church in rural Delano. In 1948 Jay and Marie purchased the 60-acre farm where she was born. Marie and Jay remained on the farm for the rest of their lives.
Marie had a deep spiritual faith and devotion to the Blessed Virgin Mary and the Rosary. She was a life-long member of St. Mary of Czestochowa Catholic Church in rural Delano.  Marie was a devoted wife and mother who loved her family.  When Marie wasn't helping with the cows or baling hay, she was busy cooking, gardening, canning, sewing quilts, embroidering dishtowels, or making braided rugs.  She was known for her pickles, blueberry delight and poppy seed cake.
Marie was preceded in death by her husband of 71 years, Jay; son Dennis; grandson Luke; infant granddaughter Anita Hausladen; son-in-law Paul Lukach; parents; siblings John, Frank, Florence, Lorraine and Catherine.
Marie is survived by her children Dianna (Jim) Hausladen, Mike (Janice), Stephen (Patricia), Teresa Lukach, John (Melanie), Joe (Kathy), and Patrick (Rita); daughter-in-law JoAnn; 27 grandchildren; 43 great grandchildren; 5 great great grandchildren; sister-in-law Catherine Schmidt.
Mass of Christian Burial was held at 11 a.m. on Saturday, March 3, 2018 at St. Mary of Czestochowa Catholic Church in rural Delano. Visitation was Friday, 4-8 p.m. with a 3:30 p.m. Rosary Service. Visitation continued Saturday, 10-11 a.m. prior to Mass, ALL at the church. Interment was in the church cemetery.