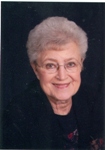 Marjorie T. Salonek
June 25, 2016
Marjorie T. "Marge" Salonek, age 81 of Montrose, passed away unexpectedly Sat., June 25, 2016. She was born on October 13, 1934 in Breckenridge, Wilkin County, Minnesota to James and Reyne (Langston) Fredericks.
Marge attended Delano High School and married Leo Salonek. She loved living on the farm. She also loved to cook and bake and sharing it with her family and friends.
Marge was preceded in death by her husband Leo; son Steve; daughter Carrie; siblings Norman Fredericks, Dave Fredericks, Marilyn (Lyle) Gast. She is survived by sons Jeff (Kim) and Tim (Patty); 8 grandchildren Shawn (Barbie) Gavin, Angie Salonek, Diana Wriesener, Steve (Christina) Salonek, Phillip Salonek, Terry Eischens, Randy Eischens, Stephanie Duncan; 10 great grandchildren Logan Larson, Madison Salonek, Dempsey Duncan, Leila Salonek, Gavin Salonek, Stella Salonek, Dilahana Larson, Axel Swedlund, Riley Dye, McKenna Dye; adopted son Kenneth Baumann; brothers-in-law and sisters-in-law Paul Salonek, Urb (Rose) Salonek, Ann (George) Lambrecht, Jean Salonek.
Mass of Christian Burial was held 11 A.M., Friday, July 1, 2016 at Immaculate Conception Catholic Church, Watertown. Visitation was Thursday, 4-8 P.M. and continued Friday, 10-11 A.M. prior to the Mass ALL at the church.