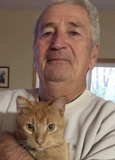 Mark F. Bredahl
April 6, 2018
Mark Franklin Bredahl, age 70, died on April 6, 2018 in Goodyear, AZ. He was born on November 8th, 1947 in Pelican Rapids, MN to Maurice and Jennie Bredahl, the youngest of three children.
Mark grew up in Pelican Rapids, MN and truly enjoyed the life a small town can offer. He proudly served in the U.S. Army during the Vietnam War, in the 101st Airborne Division. Mark later joined and served in the Army Reserves for 20 years, retiring as a Master Sergeant. He also worked at Donaldson Company for 25 years, retiring in 2002.
After retiring, Mark and Joanne moved to Texas for 9 years for a new adventure with the offer of a job for Joanne. They moved to AZ to an active adult community in the fall of 2012 and began spending winters in AZ and summers in MN.
Mark enjoyed fishing, golfing and spending time with his grandchildren and many friends. As his health deteriorated this became more difficult. The family is grateful for the outpouring of sympathy, and many expressions of love for Mark.
Mark was preceded in death by his parents; brother Edward Bredahl; sister Maureen (Mimi) Anderson; mother-in-law Ruth Wolter; brother-in-law Don Alfred and sister-in-law Sue Wolter. He is survived by his wife of 31 years, Joanne (Wolter); son Mark Franklin Bredahl II; daughter-in-law Tiffany Bredahl; grandchildren Reno, Nora and Ella Bredahl; sisters-in-law and brothers-in-law Marilyn (Richard) Delaney, Lorraine Alfred, David (Sharon) Wolter, Wayne (Marilyn) Wolter; many nieces and nephews; special friends Sandy Sorenson, Pete, Amy, Abby and Maddy Halluska and last, but not least, his beloved cat Simba.
A Memorial Service was held at 3 PM on Sunday, May 6, 2018 at the Iten Funeral Chapel in Delano. A Gathering of family and friends was from 1 – 3 PM, prior to the service, on Sunday.