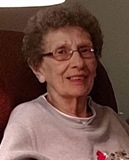 Marlys M. Winsemann
July 8, 2017
Marlys M. Winsemann, age 83 of Eden Valley, formerly of St. Louis Park, Minnesota, passed away on Saturday, July 8, 2017 at the St. Cloud Hospital. She was born January 19, 1934 to George and Evelyn (Will) Graunke in Carver County, Minnesota.
Marlys was employed at American Linen for over 30 years. She loved to fish, trips to the casino and spending time with family.
Marlys was preceded in death by her daughter Beverly Ehlers; parents George and Evelyn Graunke; siblings Glen, Dale, Barb and Judy Graunke. She is survived by her siblings Dennis Graunke, Richard (Fran) Graunke, Pat (Larry) Snodgrass, Lois Svoboda, Ronald (Audrey) Graunke, Frank Graunke, Leroy (Blythe) Graunke, Roger (Ginger) Graunke, Carol (Duane) Poliwoda; son-in-law Wendell Ehlers; as well as many nieces, nephews, cousins and friends.
Memorial services will be held at 11 a.m. on Saturday, July 15, 2017 at the Watertown Community Center. Gathering of family and friends will be on Saturday, from 10-11 a.m. prior to the services at the Watertown Community Center.