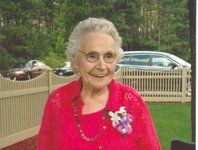 Mary Ann Dressen
9/5/2010
Mary Ann Dressen age 90 of Montrose passed away on Sunday, September 5, 2010 at her nieces home in Golden Valley, Minnesota. She was born August 2, 1920 to John J. and Julia (Zurambo) Lasnetske in Tracy, Minnesota.
She passes her kindness, strength, caring, sense of humor and love of her world onto all of us. Mary possessed a strong Christian faith that she practiced.
Mary was united in marriage to Raymond Charles Dressen and they resided in Tracy, Minnesota. Upon leaving Tracy, after World War II, Mary went to work for Continental Bakery in Minneapolis and eventually Munsingwear. In the 1960's, Ray and Mary moved to Waverly, Minnesota and resided on Lake Waverly. Later, after the death of Mary's daughter Debra, Mary moved to Montrose where she resided until moving to Golden Valley, where she resided with her longtime companion and niece, Pumpy.
She loved to spend time with family and friends, playing cards, Skip-bo, Cribbage, as well as many others. Penny wise Tuesday's were something to look forward to. She enjoyed making things for others, whether it was something from her garden, chocolate chip cookies, fish fries, or her famous creamed cucumbers. Mary's little Honda was a much favored vehicle, she was known to run errands or give rides to anyone who needed them.
Mary was preceded in death by her husband Ray and a daughter Debra Jean Reinert. She is survived by her daughter and son-in-law Raeann and Roger Spike; grandchildren and spouses Angela Spike and Andy Hylton, Jody and Chris Salzbrunn, Jason and Mo Spike, Katie Reinert, and Tom Reinert; great grandchildren Colton, Isaac, Chase, Zach, Archie, Alayna; and a future great grandchild Scarlet. She is further survived by her former sons-in-law Mike Reinert and Walter Zettervall; a special companion who journeyed through life with her, her niece Pumpy; as well as numerous nieces and nephews.
Memorial Mass of Christian burial was held on Saturday, Sept. 18, 2010 at 10 a.m. at the Church of St. Mary in Waverly, Minnesota. Gathering of family and friends was held for 1 hour prior to services in the church on Saturday. Rev. Timothy Cloutier officiated at the Mass with inurnment in the church cemetery. Memorials are preferred in lieu of flowers.