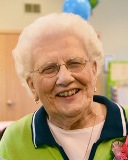 Mary Buch
January 25, 2018
Mary Elizabeth (Douglas) Buch, age 95, died peacefully January 25th at her home in Augustana Regent, Burnsville, MN. A loving mother, grandmother, great-grandmother and friend to many, her warm smile and sense of humor will be deeply missed.
Mary was born April 9, 1922 to Wilmot and Annie (Mumm) Douglas in Montrose, MN. She grew up with her parents and three older siblings on a farm just outside Montrose. She graduated from Montrose High School at the age of 16 and then attended the Minnesota School of Business. She married Richard Buch on August 23, 1941. They had five children: Barbara, Diane, Jean, Kenny and Kathie. They made their home on a farm near Delano until 1957 when they moved into town. Mary worked 27 years for the Delano Post Office, first as a substitute rural route carrier and then as postal clerk. Husband, Richard died in 1979 and she lived independently until shortly before her death.
Mary lived in Delano until December 2015, when she moved to Augustana Regent, Burnsville, to be closer to her children. She traveled extensively, loved to read, garden and have coffee with her friends at Coburn's. Most of all, she loved to spend time with her family. Mary was a faithful member of the Delano Methodist Church for over 70 years, serving in many capacities. She delivered Meals on Wheels for 25 years. She had great compassion for others, loved life and lived it to the fullest.
Mary was preceded in death by her parents, Wilmot and Annie Douglas; husband, Richard Buch; son, Kenneth Buch; her brothers, Donald and David Douglas; and her sister, Margaret Esala. She is survived by her four remaining children: Barbara (Bruce) Nelson, Diane (Barry) Bain, Jean Bartlett, and Kathleen (Bob) Majerus; 12 grandchildren: Christine (John) Filippi, John (Colleen) Bain, Lara (Stephen) Schreck, Andrew (Bethany) Schiebler, Jennifer (Jonathan) Taylor, Stephen (Jenny) Bain, Linda (Wesley) Briscoe, Elizabeth Buch, James Bartlett, Charles (Theresa) Buch, Michael (Sara) Bartlett, and Nicholas Majerus; 17 great-grandchildren: Joseph, Sarah, Colin, Davis, Grant, Matthew, Ethan, Megan, Joshua, Justin, Jeremy, Annelise, A.J., Massimo, Cassandra, Jason, Brenan; nephews and nieces.
Visitation was held on Thursday, February 8th from 4-8 pm at the Iten Funeral Home in Delano. Interment was held privately February 9th at Kreidler Cemetery. A Celebration of Life Service was held at 11:00 a.m. on February 10th at Delano United Methodist Church, 3310 County Line Rd. SE. Memorials preferred to Delano United Methodist Church or Delano United Methodist Women.