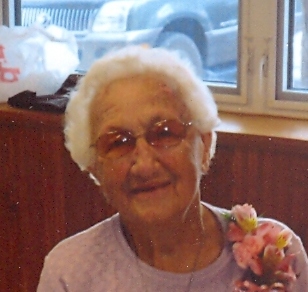 Mary K. Motzko
10/22/2010
Mary K. Motzko, age 90 of Watertown passed away on Friday, October 22, 2010 at the Ridgeview Medical Center in Waconia, Minnesota. She was born July 21, 1920 to Michael and Nellie (Cebulla) Farniok in Franklin Township, Minnesota.
Mary was preceded in death by her husband George A. Motzko Sr.; parents Michael and Nellie Farniok; infant son Francis; daughter Georgia Blackketter; 1 grandchild; 2 great grandchildren; siblings Evelyn Kruzel, Edwin Farniok, Lorraine Duske, Clarence Farniok, Ray Farniok.
Mary is survived by her children Thomas and Kathy Motzko, Arlene Schroeder, Ralph "Butch" and Kim Motzko, Susie and Arnie Lauer, Steven Motzko, Theresa and Pete Schendel, George and Sandy Motzko, Angie Motzko; 28 grandchildren; 38 great grandchildren; 6 great great grandchildren; sister Eleanor Pearson; sisters-in-law Lucille Farniok, Shirley Farniok, Vivian Farniok; son-in-law Donald and Lonnie Blackketter; as well as many nieces, nephews, cousins and friends.
Mass of Christian Burial was held on Wednesday, October 27, 2010 at 11 a.m. at Immaculate Conception Catholic Church in Watertown, Minnesota. Rev. Frank Wampach officiated at the Mass with interment in the church cemetery. Casket bearers were Nick Motzko, Darryl Helmbrecht, Jim Kasheimer, Charo Motzko, Lance Schendel, Bob Blackketter, Tracy Duske and Lisa Donahue.