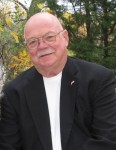 Mathias Stephen Schaust, Sr.
August 30, 2020
Mathias Stephen Schaust Sr. "Matt" age 86 passed away peacefully at Haven Homes in Maple Plain on Sunday, August 30, 2020 with family by his side. He was born on July 16, 1934 to Anthony Sr and Elizabeth (Pogreba) Schaust in Franklin Township, Minnesota.
Matt was united in marriage to Estelle Hance on February 25, 1952 at St. Francis Catholic Church in Buffalo. They raised seven children. Matt often referred to them as his basketball team bookended by his cheerleaders.
In their early years, Matt was a farmer; both in Delano and later (1964) in Hollywood Township where they operated a dairy farm they named "The Milky Way". In 1972, they moved to Watertown where Matt would end his farming career and begin working in the hospitality industry.
Matt spent many years working as a bar manager in Wayzata, Maple Plain, Fairfax, and Perham. Matt knew how to bring in customers with his friendly and welcoming personality.
In 1996, Matt took a job as caretaker for the Bedor estate on the shores of Lake Minnetonka. It was during these years that Matt was able to enjoy lake life. He and Estelle loved fishing and the family all loved getting together for a fish fry.
In 2007, Matt and Estelle moved to Mill Pond Gables in Champlin, where he enjoyed his retirement years and developed more friendships. He was always up for a game of cards or an afternoon of bingo.
When Matt started having health challenges and needed more support, he and Estelle moved back home to Delano.
Matt had many hobbies but none of which he loved more than softball. Matt started his softball career in 1959 playing on a team with three of his brothers, nephews and several men who became lifelong friends. Matt finished his career in 1980 playing on a team with all five of his sons.
Matt loved to spend time with his family enjoying picnics, moon parties, softball games, fishing, playing cards, music and dancing. Matt was an organized person and a cleaner. You would never find trash in a garbage can or a dirty floor in his presence. His barns and bars gleamed.
Matt will be loved and remembered for his work ethic, the way he enjoyed life; his positive attitude and for the love he had for his family, faith and friends. If Matt had just one piece of advice for us, it might be to "Make friends along the way."
Matt was preceded in death by his parents Anthony Sr & Elizabeth Schaust; infants Mary and David and adult son Mathias Schaust Jr.
Siblings/their Spouses: Matilda & John Florek, Leona & George Fake Sr, Anthony Schaust Jr, Elizabeth & Richard Gabrelcik, Loren Sr & Dorothy Schaust, Joseph Schaust Sr, George Sr & Joan Schaust, Leonard Sr & Maxine Schaust; brothers-in-law/sisters-in-laws: Glen Litfin, Ambrose Farniok, Kathleen Gnitka, Rita Kunkel, Ed Hance and Janet Hance.
Matt is survived by his wife Estelle of 68 years; Children and spouses: Lynn & Randy Wendt, Michael & Lori Schaust, Ed & Mary Jo Schaust, John & Barb Schaust, Dennis Schaust, Becky & Jim Bakken; Grandchildren: Kristine & Jake, Sarah, Jason & Amy, Jesse & Sammi, Eric & Morgan, Will & Zoey, Sydney, Kate, Robb & Rachelle, Keely & Ryan, Cameron & Shelby, Randi & Cory, and David; Great Grandchildren: Carter, Carmyn, Conner, Abbi, Cooper, Kaiden, Kyilee, Aubree, Rue, Wren, Eliason, Evelynn and Macallan; Sisters: Arlene Litfin, Genevieve Farniok; sisters-in-law/brothers-in-law: Delores Schaust, Lorraine Schaust, Ralph Gnitka, Jerry & Dee Hance, Arnie Kunkel, Erva Hance and Larry & Diane Hance.
Services included a private Memorial Mass of Christian Burial at 11 AM on Friday, September 25th at St. Peter Catholic Church. 217 South 2nd St. Delano, Minnesota. A celebration of life took place on Saturday, September 26th from 1-4 PM at the Delano City Hall (234 2nd St. N). This was open to the public, with social distancing measures in place.
A video of the Memorial Mass can be found through the link below, or on the Iten Funeral Home YouTube page