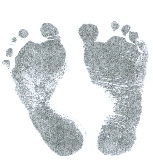 Max Neal Brueggemeier
September 30, 2017
Max Neal Brueggemeier was born on Wednesday, September 27, 2017 and passed away on Saturday, September 30, 2017 at the Children's Hospital in Minneapolis, Minnesota. He was born to Cassandra Rose and William Brueggemeier.
Max was preceded in death by his great grandparents George and Leona Fake, Lewis Grindle, Orville Brueggemeier and Joe and Mary Kay Koppi; uncles Chad Brueggemeier and Jeffrey Breuer. He is survived by his parents Cassie Rose and Bill Brueggemeier; brother Martin Brueggemeier; grandparents Rose and Roger Shadow, Neal Brueggemeier, Rachel Wright, Paula Koppi, JoAne Grindle, Audrey Brueggemeier; aunts and uncles Nicole (Shawn) Laven, Whitney Brueggemeier, Nathan Brueggemeier and Chrissy (Jeremy) Burr; as well as many other extended family members.
Funeral services for Max were held privately at the Iten Funeral Chapel in Delano, Minnesota with interment in the Calvary Cemetery in Delano, Minnesota.