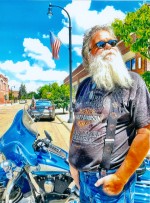 Michael David "Ziggy" Holovnia
July 3rd, 2019
Michael David "Ziggy" Holovnia, age 62 of Delano, passed away unexpectedly on Tuesday, July 2, 2019 at his home. He was born on January 13, 1957 to Zigmond and Leona (Von Bank) Holovnia in Buffalo.
Ziggy was a long-time resident of Delano; graduating from Delano High School. He was a loving father, grandfather, brother, uncle and friend to many. He was owner/operator of Holovnia Trucking for many years. He had a special passion for his Harley.
Ziggy was preceded in death by his parents and mother of his son Pam Matter (Van Lith). He is survived by his son Jeff (Jenny); grandchildren Dalton, Weston, Adelyn and Braxton; brothers Tom (Donna) and Steve; nephews Paul (Susie) and Jim (Kristen); aunts Norma Wandersee, Helen Conroy and Monica Zinken.
Funeral Services were held at 11 am on Wednesday, July 10, 2019 at St. Peter Catholic Church in Delano. Visitation was Tuesday 4-7 pm and continued Wednesday 10-11 am ALL in Martha's Hall of St. Peter Catholic Church.  Inurnment will be 11 AM on Saturday, August 24, 2019 in Calvary Cemetery in Delano.