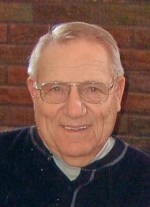 Michael Dressen
January 27, 2017
Michael Joseph Dressen age 91 of Watertown, Minnesota died on Friday, January 27, 2017. Michael was born on November 18, 1925 to Michael and Dora Dressen.
Michael was united in marriage to Mary Louise Lano on December 27, 1950 in Chaska, MN. Mary was the love of his life and they were blessed with seven children: Thomas (Nancy) Dressen, Michael Paul Dressen (deceased), Stephen (Jean) Dressen, Ann (Harold) Holland, Beth (Mark) Greenwood, Mary (Dennis, deceased) Kelly, Michael Dressen.
Grandchildren: Christopher (Shelley) Dressen, Patrick (Tina) Dressen, Thomas Dressen (deceased), Jeremy (Anna) Dressen, Corey Dressen, Kristy (Luke) Johnson, Morgan (Nichole) Holland, Matthew Holland, Megan (Christopher) Fitzloff, Daniel (Allison) Greenwood, Lauren Kelly, David Kelly.
Great Grandchildren: Thomas, Josie and Colton Dressen, Grace, Cole and Will Dressen, Alexander Dressen Noah Dressen, Alayna Holland, Taylor, Riley and Jack Fitzloff.
Mike graduated from Waconia High School and served in the Navy in 1944 in World War II. Mike then attended St. John's University where he played baseball. Mike taught at Watertown High School from 1950 to 1987 as Social Studies teacher, athletic director, assistant Principal and baseball coach.
Mike was preceded in death by his wife Mary; son Michael Paul; grandson Thomas; son-in-law Dennis Kelly; his parents Michael and Dora Dressen; sister Irene; brothers Lafar, Francis, Ambrose and Myron.
Mass of Christian Burial was held on Friday, February 3, 2017 at 10:30 a.m. at the Immaculate Conception Catholic Church in Watertown, Minnesota. Gathering of family and friends took place on Thursday, February 2, 2017 from 5 to 8 p.m. and continued on Friday from 9:30 to 10:30 ALL in the church. Inurnment with military honors was in the church cemetery.
A special thank you to family friends: Al Eggers, Burt Pavek and Neil Johnson. Also special thanks to the wonderful staff at Elim Nursing Home, Ridgeview Hospice, Dr. Heidi Wuerger and Dr. Tim Grangaard.