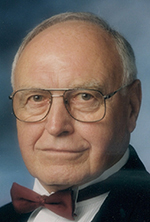 Michael O'Brien O'Brien
12/2/2014
Michael Daniel O'Brien, age 89, passed away on Dec. 2, 2014, at Elim Home in Watertown, MN. Mike was a long time teacher and coach in the Watertown-Mayer school district and served as the director of the Watertown summer recreation program for 20 years.
Born April 8, 1925, in Arlington, MN, to William and Mary (née Myers) O'Brien, Mike was the first of their seven children. Mike excelled in both academics and athletics at Arlington High School and graduated in 1943. Immediately following his graduation, Mike was drafted into the U.S. Army and served in both the Atlantic and Pacific theaters as a combat engineer.
Following his discharge from the Army, Mike enrolled at St. John's University in Collegeville, MN, and graduated with majors in English and history in 1950. While at St. John's, he met Mona Stans, and the two were married in September 1952. Mike and Mona moved to Rochester, MN, where Mike worked as a salesman for Gamble Robinson.
In the fall of 1955, Mike started his teaching and coaching career at Watertown High School — a career that would span 39 years. In his early teaching career, Mike taught a variety of subjects, including math, geography, history and English, and he coached junior high basketball. As the school district grew and the faculty expanded, Mike's teaching responsibilities focused on junior high and freshman English. He became the head basketball coach in 1964 — a position he held until the fall of 1990. Mike also coached junior high football for 30 years.
Mike retired from Watertown-Mayer school district in 1994, after having taught and coached thousands of students in the area. In the classroom, he was well known for his quick wit, his love of the English language, and his ability to make grammar interesting. Courtside and on the side lines, Mike was known for his calm, stoic demeanor and his focus on the fundamentals. He had the respect of both his players and his opponents.
Following retirement, Mike remained an active figure in the community, the school district and Immaculate Conception parish, and volunteered a great deal of his time to a variety of projects.
He was preceded in death by his wife, Mona, brothers Bill, Jim, and Francis, and his parents. Survivors include his children, Terry (Jane Praeger), Tim (Kay), Mary, Maureen O'Brien-Bohan (Mike), Bridget Mazzini (Rich), Mike (Lynne), Jim, and Nora Olson (Phil), as well as his 13 grandchildren and brother Pat (Yvonne) and sisters Mary Reeves and TC Buckentine.
Visitation will be Friday, Dec. 12, from 4:00 pm until 9:00 pm, and 09:00 am until 11:00 am on Saturday, Dec. 13, at Immaculate Conception Church in Watertown, MN. Mass of Christian Burial will begin immediately following the visitation on Saturday.
Mike"s family expresses their deep gratitude for the compassionate care and lighthearted friendship he received from his caregivers at Elim Home in Watertown. In lieu of flowers, the family would prefer memorials to Elim Home or Immaculate Conception Church, both in Watertown, MN.