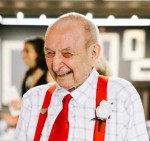 Milton Voltin
December 25, 2017
Milton John Voltin, "Milt" age 95 of Delano, passed away peacefully on Christmas Day. He was born November 26, 1922 to Henry and Agnes (Waytashek) Voltin in Hillman Township, Minnesota.
Milt was a longtime electrician in the Delano area, operating his own electrical company as well as working for the city of Delano Power Plant for 32 years. Milt was a loving Father, Grandfather and Great Grandfather. He was a member of the St. Joseph Catholic Church in Delano. He played baseball for the Hollywood Baseball team and was known for throwing a no-hitter. He was a well respected member of the Delano community.
Milt was preceded in death by his wife Catherine; 2 sisters and 2 brothers. He is survived by his children Darwin (Virginia) Voltin, Darlene Voltin, Howard (Kathleen) Voltin, Donna (Allen) Pouliot, Sheldon (Janice) Voltin, Vicky (Tim) Rajewsky; 12 grandchildren: Benjamin Voltin, Patrick Voltin, Brandon (Tarah) Voltin, Clinton Pouliot, Trenton Voltin, Jane (Dean) Hendry, Robyn Pouliot, Lindsey (Frank) Coburn, Travis Voltin, Michael (Lydia) Rajewsky, Megan Rajewsky, Courtney Rajewsky; 9 great grandchildren: Ayden, Logan, Michael, Ashlyn, Dawson, Ginny, Elin, Hudson, Camden, and one on the way; brother Irvin (Beulah) Voltin.
Mass of Christian Burial was held at 11 a.m. on Saturday, December 30, 2017 at St. Joseph Catholic Church in Delano, Minnesota. Visitation was from 4 to 8 p.m. on Friday at the Iten Funeral Home in Delano, Minnesota with a 7:45 p.m. prayer service. Visitation continued from 10 to 11 a.m. at church prior to the Mass. Inurnment was in Calvary Cemetery in Delano.
"I'll see you in the funny papers"