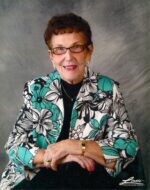 Neva F. Adickes
January 26th, 2023
Neva Florence (Kelsey) Adickes, age 90 of Delano, Minnesota, passed away peacefully on January 26, 2023. She was born in 1932 to Leonard and Nettie (Blackketter) Kelsey in Buffalo, Minnesota. She was a third generation Delano resident.
Neva was a ground-breaker in women working outside of the home, being employed at Krietzicks Variety Store, Land O Lakes in Northeast Minneapolis in the late 1950s, Universal Circuits, day work, cook at the Delano Public Schools, and finally retiring from Washington Scientific Industries in 1995. Although Neva was a working woman she always had time for her family, church, and to help others.
She is preceded in death by her parents Leonard and Nettie (Blackketter) Kelsey, husband Stanley Adickes, brothers Everett Kelsey and George (Joyce) Kladifko, son-in-law David Minarik, parents-in-law Albert and Ruth (Eagy) Adickes, brother-in-law Erwin Adickes, sister-in-law Ellen (Archie) Janikula.
Neva is survived by her daughters Brenda Klinkner and Jill (Tom) Lee; grandchildren Corey Minarik, Nettie (Andy) Hackenmueller, Shawn Minarik, Chantelle (Christopher) Kraemer and Erin (Scott) Worm; great-grandchildren Ty Minarik, Kenzie and Cooper Hackenmueller, Axel and Crosby Kraemer, Jacob, Justin, Brantley, Jordyn, and Bree Worm. She is further survived by her sisters-in-law Joan Kladifko and Gloria Adickes, as well as many nieces, nephews, cousins and friends.
Funeral Service was held at 2 PM on Wednesday, February 1st, 2023 at the Delano United Methodist Church. (3310 County Line Road, Delano, MN). Gathering of family and friends took place from 12 PM to 1:45 PM prior to the funeral, all at the church. Private family interment was in Delano Public Cemetery. Memorials preferred to the Delano United Methodist Church, or the Delano Senior Center Bus Fund as they were both favorite places of Neva.
The service was live-streamed on the Iten Funeral Home Youtube page, through the link provided below:
https://youtube.com/live/rTtCJpTp9eI