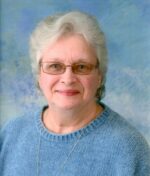 Nichola "Nikki" Dean
May 10, 2021
Nichola Louise Dean, "Nikki", "Grams", "GG", age 75 of Delano passed away at home on Monday, May 10th 2021. She was born on October 12th, 1945 to Cecil and Alice LaDeane (Shinn) Nuss in Hastings, Nebraska.
Nikki was a loving mother, grandmother, great-grandmother, sister, aunt, cousin and friend to many.
She was feisty, tough as nails, with a sharp wit. She worked hard for her family and provided them with everything they needed. She never stopped being a mom and was affectionately known to her grandchildren as "Grams" and her great grandchildren as "GG". She instilled her passion for the Nebraska Cornhuskers in her family (Go Big Red). She enjoyed watching all the birds on her feeders, crocheting and playing cards with her friends at the Delano Commons.
Nikki was preceded in death by her parents Cecil and Alice LaDeane Nuss, and grandson Nicholas Anderson. She is survived by her daughters Stacey Robinson, Dina Robinson, Michelle (Shannon) Hotakainen; grandchildren Danielle Sullivan, Joshua Robinson, Anthony Hotakainen, Carter Hotakainen; great-grandchildren Alexander Sullivan, Mateya Sullivan, Izabella Sullivan, Makenzie Robinson, Harper Robinson, Brady Robinson, Audrey Thomas; siblings James (Elizabeth) Nuss and Randy (Shirley) Nuss.; family Tana Jones and Christine Thomas.
A Celebration of Life was held at 11 a.m. on Saturday, May 29th, 2021 at Delano United Methodist Church. The service was livestreamed on the Iten Funeral Home Youtube page. A gathering of friends and family was from 10-11 a.m. prior to the service. Inurnment  immediately followed the service in Elmwood Cemetery in Rockford, Minnesota. A reception followed the committal services.